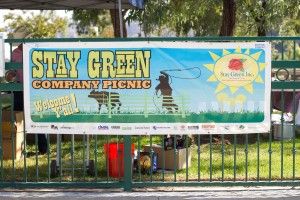 Everyone geared up in their best cowboy duds, and we'll let you in on a poorly kept secret: We all had a lot of fun.

It was the 2012 Stay Green company picnic, an opportunity to thank every one of our more than 300 team members who make Stay Green so successful. This year's picnic featured a western theme and our team members and their families really got into the spirit of the occasion.

There were plenty of things for adults and kids of all ages to do during the Sept. 29 festivities at Richard Rioux Park in Stevenson Ranch, including a petting zoo, bounce houses, face painting, balloon art, a Lady Bug booth, and a western-themed photo booth. Fun but competitive events included a plant ID competition, an irrigation competition and a best-dressed contest.

Great food included Argentinian barbecue and a taco cart, and live entertainment was provided by a Mariachi band, which was a huge hit. Also a hit were the raffles, including two grand prizes: a chainsaw donated by B&M Lawn & Garden Inc. and a 46-inch LCD flat-screen TV.

We also saluted employees who have hit major milestones in their service for Stay Green. We're so proud that a great many of our team members have chosen to remain part of the Stay Green family for so many years, and we sincerely appreciate their service and commitment.

The biggest milestone we saluted at this year's picnic was for Vicente Guzman, who celebrates 25 years of service this year. Celebrating 15 years of service were Alejandro Garcia De Alba, Jose Leon Pelayo and David Pelayo-Leon. The 10-year milestone was celebrated for Ramon Esparza, Alfredo Escobedo Carrera, Leonardo Vera-Mojica and Eduardo Valerio Arellano.

And, nearly two dozen employees were honored for reaching their five-year milestones this year. They are: Grant Clack, Rene Rivera, Lorna Duarte, Pablo Vasquez, Carlos Munguia, Raul Alvarado, Elias Juarez, Nicolas Magana-Lopez, Jose Pelayo, Juan Pelayo, Hector Perez, Andres Salagado, Hector Gomez, Tiburcio Lopez, Juan Carlos Pelayo, Jose Luis Perez Morales, Javier Cervantes, Rafael Caballero, Camilo Luna, Rafael Virues, Vicente Cruzargueta, Gerardo Gonzalez and Jose Ramos Vigil.

We're grateful to them all, and we thank every one of them not only for their dedication and hard work, but also for joining us at the picnic for such a rootin' tootin' good time!

Stay Green gives its sincere thanks to everyone who helped produce our 2012 company picnic through donations and volunteer help. Volunteers from Saugus High School's ASB helped host and monitor the games and events, and a very special thanks goes to them!

Thanks also to all of the sponsors, including: Somos Technology; AA Equipment; Advantage Disposal; B&M Lawn & Garden Inc.; Bishop; BOSS; Cintas; Enterprise; Ewing; Greenview Nursery; HydroScape; LCIS; LV Enterprise; Mellady Direct Marketing; Norman's Nursery; Performance; Print-Scape Inc.; Smile Finders; Stern, Kory, Sreden & Morgan AAC; Target Specialty Products; and, Twenty-Twenty Insurance.

Stay Green Inc. provides award-winning landscape maintenance, design/build, tree care, and plant health care services for premiere residential, commercial and industrial properties throughout Southern California. If you'd like information on how Stay Green's Design/Build Services team can improve the return on your landscaping investment, call (800) 741-9150.