Service Areas The Natural Choice for Professional Landscape
Service Areas
Expert Commercial Landscaping
Stay Green is proud to offer commercial landscaping services that emphasize client satisfaction and sustainability principles which we apply to every aspect of our business.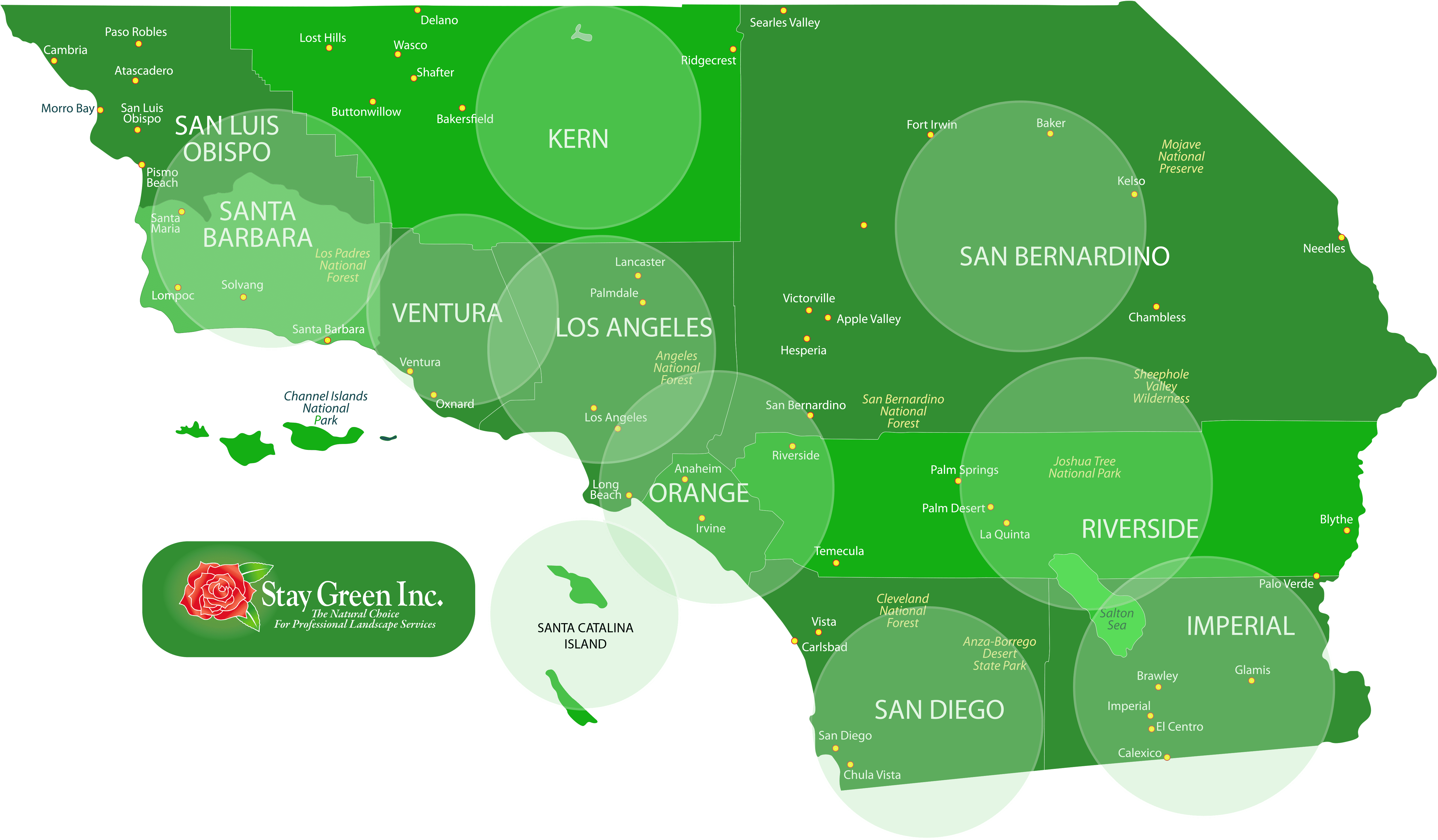 We Serve Clients Throughout the Following Areas
LOS ANGELES COUNTY

ORANGE COUNTY

VENTURA COUNTY

SANTA BARBARA COUNTY

KERN COUNTY

SAN BERNARDINO COUNTY

RIVERSIDE COUNTY

OTHER SERVICE AREAS

San Diego County
Catalina Island
Start Your Career
We're seeking motivated, educated, enthusiastic team members to help us maintain high standards of excellence in the landscape industry.
Apply Now
Top 100 by Lawn & Landscape Magazine

Still going strong after 53 years of service to scores of communities across 10 Southern California counties, commercial landscaping design, build and maintenance company Stay Green Inc. has been lauded again by Lawn & Landscape Magazine, which has ranked it, yet again, among the Top 100 landscaping industry firms in the entire United States and Canada.
"This team is AWESOME!"

This team is AWESOME! In order to practice safe social distancing, they sent me a video of the inspection they did at the ...

- Anonymous

"In this crazy day and age, it was so refreshing to have such good people help Me out of the kindness of their hearts just for no reason at all."

I just wanted to compliment your South Bay team and Frank your foreman and Zack their supervisor. Today they were working on ...

- Jennifer M.

"May our whole world work together like you good folks..."

BIG THANK YOU TO EACH AND ALL ~ Ortego trimmed the overgrown foliage, Sergio assured me that the larger dying grass patches behind Bldg. 5 will be checked, and Ortego assured me that the overgrown height of the foliage to the South end of Bldg. 5 will b

- Rosemary S

"Stay Green is always reliable, friendly, and do an excellent job of maintaining our grounds!"

We appreciate all of the hard work and dedication that Stay Green provides to Worldport and City Place. They are always ...

- Pamela R.

"Stay Green team still managed to provide excellent service and put a smile on my face."

With all of the chaos surrounding our daily lives, the Stay Green team still managed to provide excellent service and put a ...

- Heidi A.

"Thank you for the outstanding job that you and the entire team at Stay Green Inc. did."

Zack thank you for the outstanding job that you and the entire team at Stay Green Inc. did with all of Abalone Cove's native ...

- Mary Jane R.

"With Stay Green on the job, we know we don't have to worry"

At Ross Morgan, we are committed to maintaining the highest-quality service to every client whose property we manage, and ...

- Michelle Atkinson, Community Manager, Ross Morgan & Company, Inc.

"Their on site managers and crew are always courteous and helpful"

Stay Green has worked with our small community through difficult issues both in landscaping and irrigation. Their on site ...

- Helen Fishman, Member, Board of Directors Creekside, Calabasas