Santa Clarita The Natural Choice for Professional Landscape
Commercial Landscaping in Santa Clarita
Commercial Landscaping Services in Santa Clarita
Stay Green Inc. was founded in 1970 by skilled professionals with a passion for quality service. And from the days when we only had a handful of customers and operated out of a single truck, to employing over 400 landscaping experts across five divisions, we have continued to emphasize those same values of professionalism and quality.
As a family-run business, we are dedicated to treating all our clients with honesty and integrity, and going above and beyond to meet their specific needs. Today, we are a leading provider of commercial landscaping in Southern California, serving HOAs, retail properties, sports and leisure facilities, and more.
If you're looking for Santa Clarita landscapers backed by almost 50 years of experience, contact the pros at Stay Green today. Take a look at our reviews page and see why we are Santa Clarita's most trusted landscaping company!
Eco-Friendly Commercial Landscapers in Santa Clarita
Regardless of the nature of your landscaping needs, the Stay Green team is trained to get the job done up to the highest standards of excellence. No matter the size of the project, we are equipped with the tools and technology to handle it, and our Santa Clarita landscapers always work quickly and efficiently so there is as little disruption to your property as possible. For beautiful results that can be tailored to everything from golf courses to municipal buildings, you can't go wrong when you go with Stay Green.
Our landscaping options in Santa Clarita including the following:
Landscape design/build services
Landscape maintenance
Plant health care
Complete tree care
Brush clearance
Water management services
Drought defense
Landscape pest control
Santa Clarita Sustainable Landscape Maintenance
Unlike other landscaping companies, Stay Green is also proud of our focus on sustainability, allowing you to get the outstanding service you need without having any negative effect on the environment. Offering emission-free equipment, water-smart landscape management, and deep-root, organic fertilization that's safe for your property and everyone on it. Routine landscape maintenance can offer your commercial space some great benefits.
​These benefits include the following: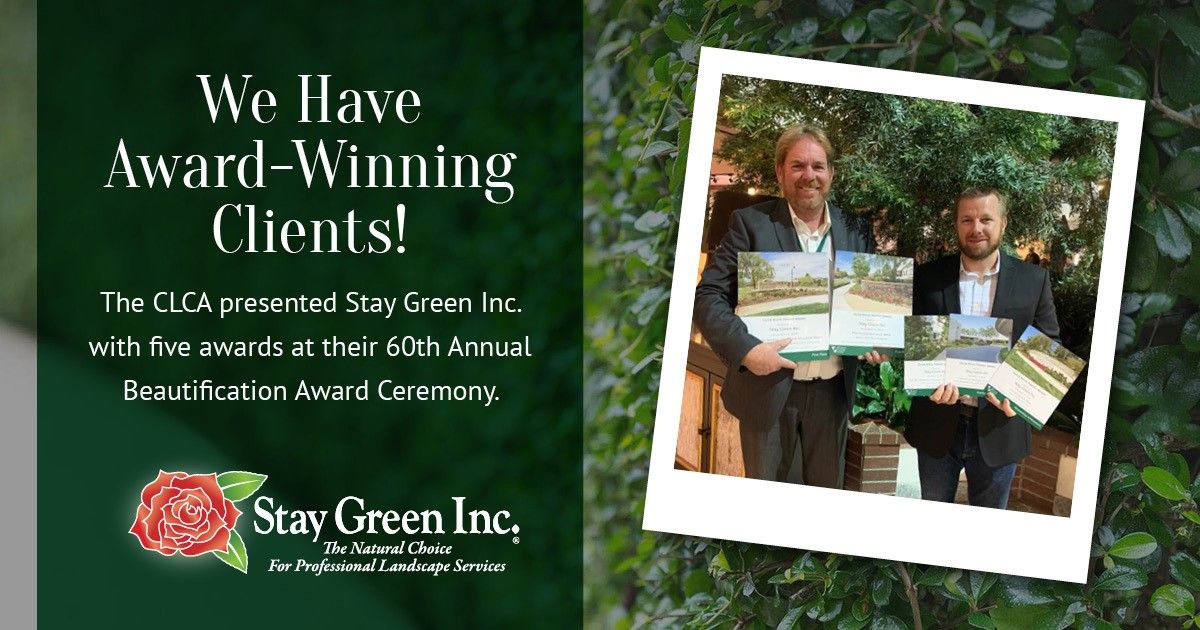 ​Effective Weed Control: Routine landscape maintenance can help to reduce weed growth and help to prevent your plants and grass from dying.
Enhanced Visual Aesthetic: Regular landscape maintenance will boost the appeal of your commercial space, creating a beautiful visual aesthetic. Keep your lawn vibrant and beautiful throughout the year!
Enhanced Safety: Apart from the visual aspects that regular landscape maintenance can offer, trimming, pruning, and fertilizing can help keep everything neat and increase the safety of your commercial property. Lawn maintenance can even help prevent wildfires, as temperatures heat up in Southern California!
A Wise Investment: Lawn maintenance services can help prevent you from paying for other costly services throughout the year, and will also help to enhance the value of your property by beautifying it.
If you are looking for sustainable commercial landscape maintenance in Santa Clarita, contact our team online or give us a call at (800) 741-9150 today for the responsible landscaping choice.
Santa Clarita Commercial Pest Control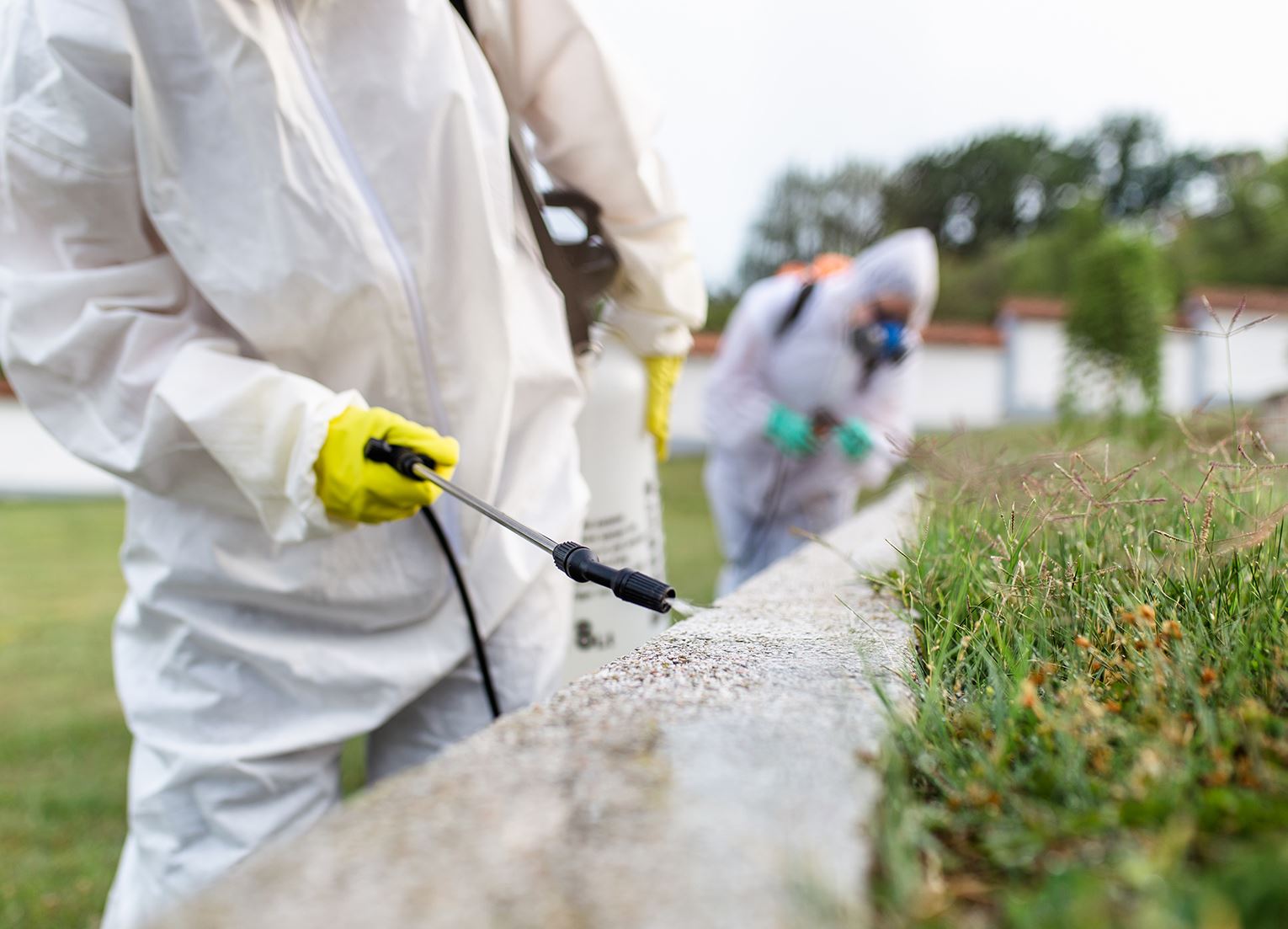 If you are looking for professional pest control services in Santa Clarita, you can count on us to get the job done right for you. Ants, flies, rodents, cockroaches, and other bugs are just a few of the many pests that could be causing problems on your property.
Our team of experienced professionals knows just what to do to get rid of all pests and create a healthier and more comfortable work environment for you, your customers, or your employees. Pests can be problematic during any time of the year and are not easy to handle and get rid of.
Oftentimes, we may attempt to get rid of pests, only to realize that their efforts were a temporary solution. Here at Stay Green, our team of experts have combined years of experience and are equipped with professional technology that not only eliminates pests but also prevents a return infestation.
The important thing when it comes to pest control so to eliminate the source of the problem - and that is exactly what we take care of. Customer service and satisfaction are our very top priority, and we never rest until we get the job done in the very best possible way. If you are experiencing pest issues in your Santa Clarita commercial property, we can help.
Contact us to schedule your service or to learn more about the many services we have to offer here at Stay Green so that you can welcome your customers and employees to a healthier and more comfortable workspace.
Trust Us For Landscaping in Santa Clarita
With a 95% customer retention rate, you can trust Stay Green's reputation for five-star customer service. Our award-winning, ISA-certified arborists always stay up-to-date on all the industry-leading rules and requirements, to ensure your property never gets anything less than the best. And with a commitment to improving our community through local causes and charity work, you can feel good when you hire our friendly Santa Clarita landscaping team to take care of your commercial property.
Suggested Reading:
Call Stay Green now at (800) 741-9150, or send us a message online for more information.
Start Your Career
We're seeking motivated, educated, enthusiastic team members to help us maintain high standards of excellence in the landscape industry.
Apply Now