Stay Green Inc.'s tree care experts have reported the first local sightings of the shot hole borer, a destructive Southeast Asian bark beetle that kills trees by infesting them with a devastating fungus that cripples a tree's vascular system.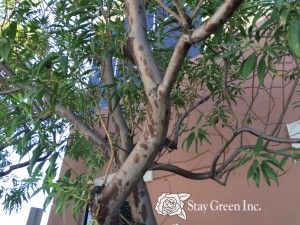 What appear to be liquid stains on a tree can actually be evidence of a bark beetle infestation.
This past weekend, a Stay Green account manager was checking on a landscaped common area in Valencia and noticed a sycamore tree that appeared to have a shot hole borer infestation. Arborists from Stay Green and the city of Santa Clarita confirmed the infestation, and four more nearby sycamores were also found to be infested."This is alarming news for numerous varieties of trees," Stay Green CEO Chris Angelo said. "These pests have already caused the death or removal of thousands of trees throughout Southern California, and this is the first evidence we've seen that the shot hole borers have infiltrated the Santa Clarita Valley."
The shot hole borers are "polyphagous," which means they are capable of feeding on various kinds of food. This makes them a threat to many different species of trees, although some trees are more vulnerable than others. In addition to sycamores, other trees that are especially vulnerable to the shot hole borers include oaks, avocado trees, castor bean and box elders.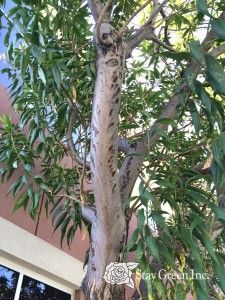 Trees can appear deceptively healthy for quite some time after a bark beetle infestation but the long-term damage is devastating.
"If you have a tree that's been infested by shot hole borers, you may not even know it," Angelo said. "They are tiny beetles, just a bit smaller than a sesame seed, and they make very small holes in a tree's bark. By the time you see visible evidence of their presence, there's a good chance they have already done their damage to the tree."
The shot hole borers are an invasive, non-native species that experts believe arrived to the Southland via international cargo packing crates, as far back as 2003. Over the past year, they have been rapidly spreading throughout multiple Southern California counties.
Angelo said prevention is the best way to address bark beetles.
"Our tree care experts can provide treatments to battle infestation, but even more importantly, they have developed preventive treatments that protect trees from bark beetles for a year to two years at a time," Angelo said.
He added that treatment is more cost-effective than tree removal. "The best way to fight a shot hole borer infestation is to prevent it from happening in the first place."
Download our printable Bark Beetle Invasion flier: Click Here