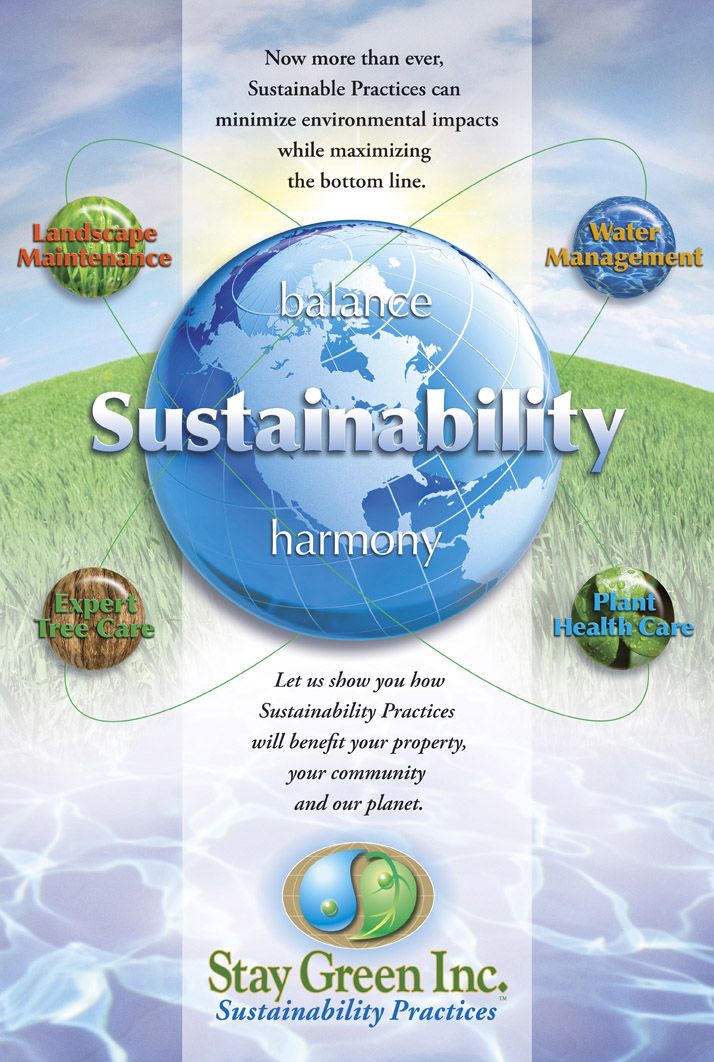 It's kind of like Disney's "The Lion King." Here at Stay Green Inc., when we discuss our Sustainability Practices, we're really talking about promoting a natural circle of life. In nature, organic waste is continuously recycled, eliminating waste. Human activity since the industrial revolution has upset this cycle, creating waste and pollution that overwhelm nature's ability to recycle, preventing the circle from being completed. At Stay Green we're devoted to utilizing products and practices that foster organic materials' natural cycles. Our operations are designed to be sustainable, protecting the environment we all share.

We hope you'll join us in an ongoing conversation about sustainability, and the ways in which every one of us can have a positive impact and help nature fulfill its circular mission. As we go forward with this discussion, in upcoming posts we'll expand upon many specific creative, responsible and sustainable ways our team and our partners are conducting business in the landscaping industry. Among other topics, we'll discuss:

• RECYCLING: We'll touch on the importance of recycling in general, and specifically as it applies to mulching green waste to divert it from landfills. Reusing green waste nourishes our soil, removes carbon dioxide from the atmosphere and reduces greenhouse gases.

• WATER USE EFFICIENCY: We're big believers in cutting-edge techniques to manage water use, including smartly designed irrigation plans, water-efficient equipment and sprinkler nozzles, and "smart" weather-based irrigation controllers that automatically regulate your irrigation — which not only saves our precious water resources but also prevents wasteful use that can hike up your water bill.

• PARTNERS IN INNOVATION: Sustainability is practiced by Stay Green's partners every day, and we strive to choose vendors and partners that share our passion for responsible environmental stewardship. For example, Oxnard-based Agromin provides soil products that utilize biodegradable resources and promote the renewal of our finite soil resources. Every year, Agromin converts almost 380,000 tons of recycled organic material into compost, mulch and other soil products. Other partners in sustainability include HydroPoint, which manufactures WeatherTRAK irrigation solutions; Ewing Irrigation and Rain Bird, which create efficient water management and irrigation products; and, Marathon Sod, which provides turf products that can handle our dry, hot climate. Stay Green is proud to have partners who care about our planet, and we're looking forward to telling you more about their innovations.

• SUSTAINABLE DESIGN: Stay Green's team members apply their expertise every day to help our customers create sustainable landscape designs. These activities include things like the proper placement of irrigation and turf, or the selection of drought-tolerant plants that not only are well-suited to our climate, but also possess the lush natural beauty we all seek in our landscaping. Yes, you CAN have your cake and eat it, too. Stay Green's team can show you how.

We'll cover these subject areas and more as we discuss sustainability on an ongoing basis — constantly striving for improved air quality, efficient use of energy and water resources, and reduction of waste as we help nature complete the circle of life. Please, join us, and contact the Stay Green team if you'd like to know more about how our Sustainability Practices can help your property be more Earth-friendly.