CHP, Stay Green and Eternal Valley Team up to Honor Fallen Officers
SANTA CLARITA, CA – The Santa Clarita Valley will never forget the sacrifices of those who have laid down their lives to protect this community. That's the overriding message behind a coordinated effort to refresh and rejuvenate a memorial to four California Highway Patrol officers who were killed in the line of duty during a 1970 shootout that became known as The Newhall Incident.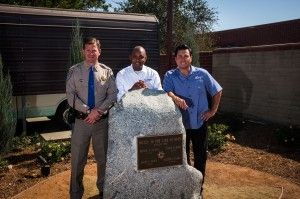 Now, the four officers are honored in a newly donated, freshly landscaped memorial designed and constructed by the local landscape company, Stay Green Inc., as part of a project initiated by Eternal Valley Memorial Park.
The previous memorial, erected on a brick wall, had become obscured as the CHP's Newhall Station had grown to accommodate needs for additional community services.
"These four young men made the ultimate sacrifice in the service of this valley, so when we heard the memorial was in need of renovation, we knew right away that we wanted to be involved," Stay Green CEO Chris Angelo said. "Our professional landscape team embraced this project from the start, carefully designing and building a landscaped memorial that will respect and honor the memories of these four officers."
The new memorial garden, located at the main entrance to the CHP station on The Old Road, centers around a large boulder, where the original memorial plaque pays tribute to Officers George Alleyn, Walt Frago, Roger Gore and James Pence.
Stay Green became involved after being approached by Curtis Woods, general manager of Eternal Valley Memorial Park and Mortuary, and chairman of the SCV Chamber of Commerce board. Woods said Eternal Valley was initially approached by the CHP about working on the permanent memorial.
"It was an honor for us to be considered as a partner with them," he said. "I really appreciate the CHP and what they're doing to create a permanent memorial for these officers, to ensure their service will never be forgotten."
As Woods took stock of Chamber of Commerce members who could be potential partners for the project, Stay Green was at the top of the list. While initial talks revolved around having a fundraiser to help offset the cost, Stay Green wound up covering the cost.
"Chris Angelo and Stay Green really stepped up to the plate," he said. "I was really impressed. Chris didn't bat an eye."
The boulder and plaque are framed by four "skyrocket" juniper trees representing the officers. A crushed granite pathway leads to the boulder, surrounded by plantings of amber "flower carpet" roses and blue chalksticks, a succulent ground cover.
"From a practical standpoint, all of the plantings are well suited to our local climate, and can tolerate the local heat while using water efficiently," Angelo said. "And, from an aesthetic standpoint, the plantings will mature to provide the beauty, respect, dignity and tranquility that are appropriate for the memorial."
Capt. Ed Krusey of the CHP's Newhall Area office expressed appreciation for the efforts of Stay Green, Eternal Valley and all of the volunteers who helped with the project.
"The CHP Newhall Area Senior Volunteers have been an instrumental part in revitalizing the CHP Newhall Area memorial for the four fallen CHP officers. They have spearheaded the project with Stay Green and Dignity Memorial (Eternal Valley) along with the assistance from Advanced Innovations Construction Inc. and Caltrans," Krusey said. "The Newhall CHP Area office truly appreciates these entities and what they have done to give our office a beautiful remembrance to the four officers who paid the ultimate price the night of April 5, 1970."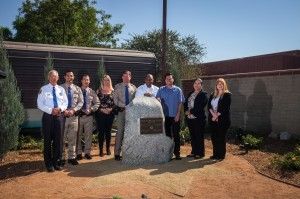 The Newhall Incident was a 4½-minute gun battle that ensued when Officers Frago and Gore stopped a vehicle that had been reported as having one of its occupants brandish a weapon. They pulled into the parking lot of a now defunct restaurant, about a mile away from the current CHP station. The occupants of the car — Jack Twinning and Bobby Davis — came out firing, killing both officers in a matter of seconds.
Pence and Alleyn, arriving to provide backup to their fellow officers, were also shot and killed at the scene, and Twinning and Davis fled. They split up, and a nine-hour manhunt ensued. Twinning broke into a house and briefly held an occupant hostage before killing himself. Davis was captured and later convicted on four murder counts. He died in prison in 2008.
The four officers were survived by their wives and a total of seven children ranging in age from 9 months to 4 years.
The incident was widely scrutinized, and resulted in fundamental changes in the training of law enforcement officers as well as equipment and procedures for high-risk and felony traffic stops.
Additional information about The Newhall Incident can be found on the CHP's website at: https://www.chp.ca.gov/home/about-us/the-history-of-the-california-highway-patrol/milestones-in-time/the-newhall-incident