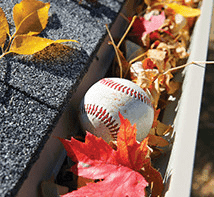 As the weather shifts from triple-digit Southern California heat to the weather respite we call fall, it's a good time for all of us — professional landscapers and home gardeners alike — to perform seasonal checks on our property, landscaping and equipment. In the spirit of fall's arrival, here are a few tips and tricks you can share with your clients and individual homeowners:
Clean or replace air conditioning and heating filters, making sure they are clear of accumulated dust and debris. You may not be using the A/C as much anymore, but the furnace is going to get working soon! It's also a good time to have your furnace professionally cleaned and inspected.
Check your roof and rain gutters for any debris and leaves that may have accumulated over the summer. Once we get some rain, you'll be glad you did this!
How are your windows and doors? Check the frames to see if any caulking has been sun-damaged, and shore up the weak spots.
Check your smoke detectors and replace batteries as needed.
This is a great time to organize your garage and tool sheds. Do you have any landscaping gear that only gets used in the summer? This is a good time to clean and store those pieces of equipment.
All throughout the fall, you'll need to work regularly to keep up with the pace of leaves dropping from trees. Try to keep up, and keep your landscaped areas clear of excess dry leaves, which can be hazardous during fire season. And make no mistake, fire season isn't over yet! Those Santa Ana winds are coming.
Reseed any patchy areas of your turf, and plant any new spring-flowering bulbs now.
Adjust your irrigation schedules to reflect the changing seasons. Stay Green highly recommends the use of weather-based irrigation controllers, but many homeowners who maintain their properties individually are not yet equipped with WBIC's, so as the temperatures cool and weather patterns change, it's important to adjust the schedules to water less frequently. This is important not only for your landscape's plant health — too much water can be damaging — but also to help do your part to efficiently manage California's water resources.
Need more tips? Check out Stay Green's Fall Landscape Services for ideas. Or, contact your Stay Green team member and we'll be glad to provide landscaping and homeowner tips or answer specific questions you may have.