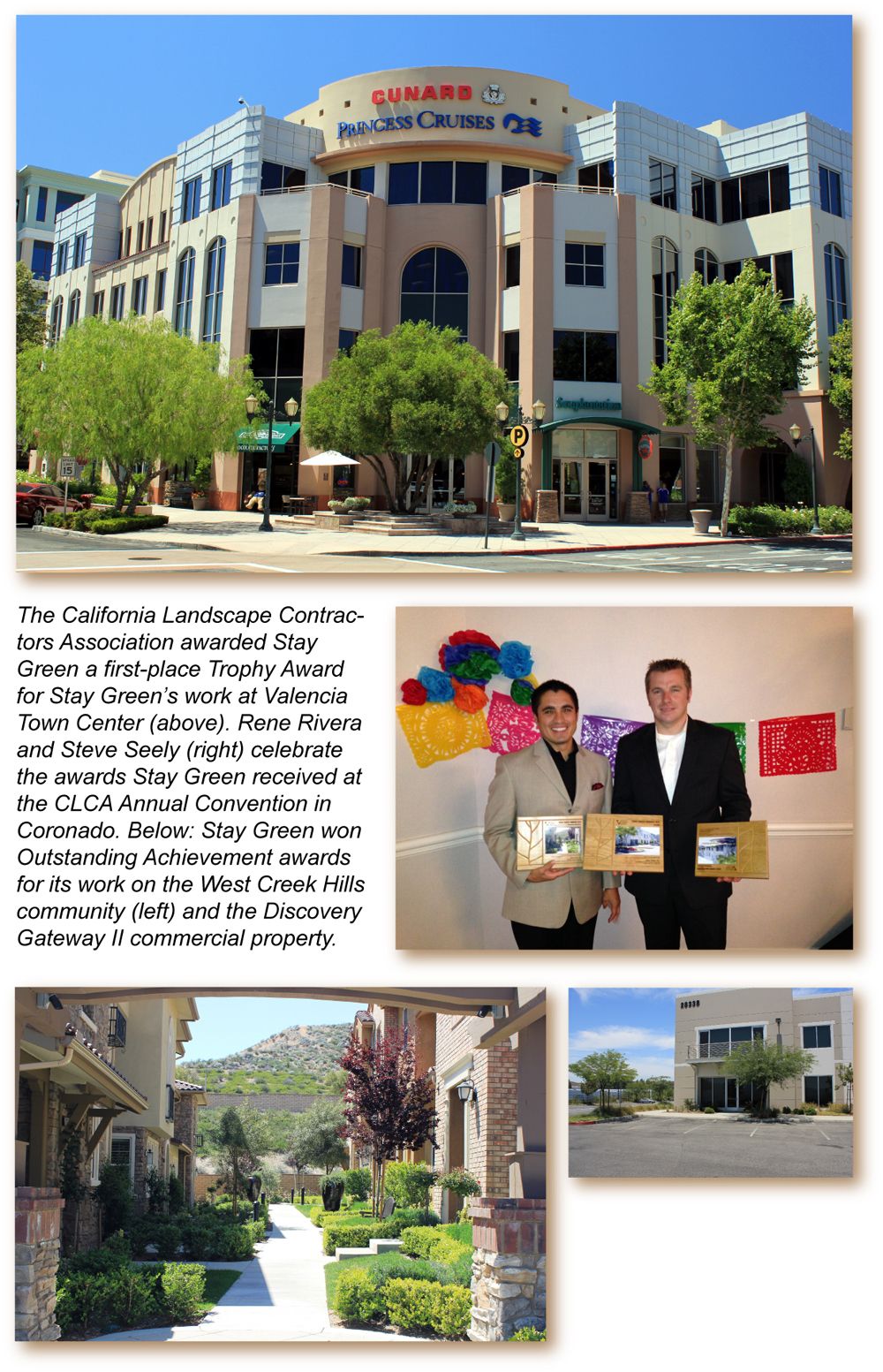 The California Landscape Contractors Association has honored Stay Green Inc. with a trio of awards in its 2012 Trophy Awards recognizing California's best landscaping.

These awards reflect the dedication and creativity of the entire Stay Green team. We're extremely proud of the top-notch work they do every day, and the awards are a much-appreciated validation of those efforts.

Stay Green, based in Santa Clarita, won the Medium Commercial First Place award (sponsored by Hunter Industries) for its work on landscapes at the Valencia Town Center.

The Stay Green team also received a Small Commercial Outstanding Achievement award (sponsored by Hunter Industries) and an Apartment, Condos and Townhomes Outstanding Achievement Award (sponsored by LCIS).

The Small Commercial award was for the Discovery Gateway II commercial property, and the Apartment, Condos and Townhomes award was for the West Creek West Hills community.

The CLCA is a nonprofit trade organization consisting of more than 3,000 licensed landscape and landscape-related contractors throughout the state. The Trophy Awards were presented Nov. 9 at the CLCA 2012 Annual Convention at the Loews Coronado.

The CLCA's Trophy Awards program honors the best of California landscaping, and is intended to encourage interest in the art of landscaping.

Judging criteria for the competition included the healthy appearance of landscaping, proper irrigation and water management, proper trimming and pruning, quality of workmanship, and the general appearance of the property. Entrants first submitted photos of the property being entered in the competition, then entries were personally inspected by CLCA's judges – without the entrants present.

Stay Green Vice President Rene Rivera said the award-winning landscaping was a team effort. On the Town Center property, the first-place-winning work was performed by a team led by Operations Manager Grant Clack, and for the two Outstanding Achievement awards the properties are both maintained by a team led by Account Manager Kevin Cawley.

"They make sure the properties are in tip-top shape," Rivera said. "It takes a great degree of attention to detail — proper irrigation management, selective pruning of the vegetation, and proper care and feeding of the plants so they look natural, vibrant and healthy."

We're thrilled to be recognized by the CLCA, a highly respected organization in the industry: The CLCA really gets it. The organization recognizes quality workmanship and also is an advocate for the artistic aspect of creating beautiful landscapes. We're honored that they found our team's work worthy of recognition.