The following is a copy of a press release issued today by Stay Green Inc.:
Stay Green Inc. has launched a groundbreaking initiative to promote sustainability and positive environmental stewardship via state-of-the-art propane-powered mowers that reduce emissions and fuel consumption.
The $300,000 initiative includes the addition of 35 John Deere propane-powered ride-on mowers to the Stay Green fleet, replacing traditional gasoline-powered mowers.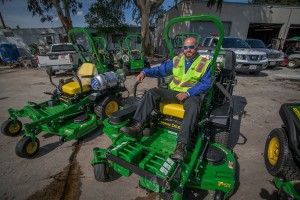 "This is a natural fit," said Chris Angelo, President-CEO of Southern California-based Stay Green, a landscape industry leader in promoting sustainable business practices. "At Stay Green sustainability is an integral part of our everyday operations as well as our overall company philosophy. We're constantly pursuing innovations that reduce fuel consumption and emissions, thus reducing our carbon footprint."
The propane mowers feature a dealer-installed OEM (original equipment manufacturer) solution, and were provided by two John Deere dealers: Stotz Equipment and Cal-Coast Machinery.
The ride-on mowers during the past month have been put into service on the landscapes of Stay Green's clients throughout Los Angeles and Ventura counties. Also, approximately 30 propane-powered, 19-inch push mowers from another manufacturer are scheduled to be added to the fleet over the next month.
Charlie Durand, Corporate Business Manager for John Deere, said the new initiative is a perfect connection between two companies whose identities are tightly connected to the word "Green," not only as a color scheme but also as a way of doing business. "We welcome the opportunity to work closely with a company like Stay Green to help them with sustainable solutions that they want to investigate."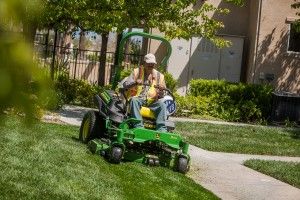 Angelo said the propane mowers provide significant value to Stay Green. "While the purchase cost of the propane-equipped mowers is a bit higher than a regular gasoline-powered mower, the long-term benefits in terms of fuel costs and reduced emissions far outweigh the initial cost."
According to the Propane Education & Research Council (PERC), propane-powered mowers generate significant benefits, including:
Simple, cost-effective refueling processes.
Tax benefits, government incentives and rebates.
Nearly 50 percent reduction in greenhouse gas emissions and 80 percent reduction in carbon monoxide emissions.
Reduced risk of fuel theft and spillage.
"Replacing gasoline as a fuel source in commercial and residential mowers helps increase alternative fuel consumption, decrease our nation's dependence on imported oil, and improve our air quality," PERC says on its website. The new mowers also beat the stringent emissions requirements set forth by the California Air Resources Board (CARB) as well as the federal Environmental Protection Agency.
Angelo said Stay Green's new mowers will help improve air quality across a broad swath of Southern California. "Each of our ride-on mowers operates approximately 600 to 800 hours per year, so if you multiply that by 35 mowers, the new fleet of ride-on mowers represents about 24,000 hours of reduced emissions in the first year alone."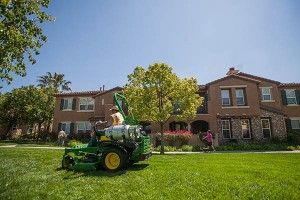 According to the federal Environmental Protection Agency's website, "The amount of pollution emitted by a [gasoline-powered] lawnmower operating for one hour is equivalent to the amount of pollution emitted by a car driven for approximately 45 miles."
So, with the new ride-on mowers averaging a 50 percent reduction in emissions, it's roughly equivalent to taking 32 cars off the road for one hour apiece, every day, all year long.
"Once the push mowers replace their gasoline-powered predecessors, we'll see an even more significant reduction in gasoline use and emissions," Angelo said. "Each of those operates for about 300 to 500 hours per year, so it's about 12,000 additional hours of reduced emissions."
Angelo added that Stay Green views the mowers as just one step in the 300-employee company's effort to promote sustainability. "This isn't a one-off thing for us. We believe it's important to walk the walk, every day — setting an example, utilizing resources efficiently, and adopting sustainable techniques and equipment. It's part of our effort to protect the planet we all share."
Stay Green Inc. (www.staygreen.com) provides award-winning landscape maintenance, tree care, and plant health care services for premiere residential, commercial and industrial properties throughout Southern California.