Here's an excerpt from Stay Green's latest Seasons of Care newsletter!
For homeowners, spring is a logical time to rejuvenate your home, from the landscaping to the interior — and it's not a bad idea to perform some safety checks, too. Here are a few springtime tips for homeowners from the Stay Green team:
INTERIOR
Replace or clean your heating & A/C filters. Clogged filters diminish appliance efficiency and can cause a fire hazard.
Speaking of fire safety, check those smoke detectors and replace the batteries.
Check appliances for any unsafe conditions. For example, it's a good time to make sure your clothes dryer exhaust duct is clean and free of excess lint.
Check your fire extinguishers to make sure they are ready for use.
Has your garage accumulated a lot of extra items in storage over the winter? Could be time for a spring cleaning — and maybe even a garage sale!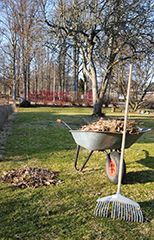 Drought-Busting Tips for Homeowners
Ready to do your part to help beat the drought? Homeowners can preserve the beauty of their landscapes while saving water inside and outside the home with these tips and more to come:
Choose plants wisely: Whenever possible, use vegetation that thrives in your local climate. Here are some examples that are working well locally this spring: Petunias add a nice splash of color, and are good until it gets too hot. Red and Blue Salvia work well here year-round, and Impatiens thrive colorfully in areas that get morning sun and afternoon shade. And, Meidiland Roses, which come in red and white varieties, are low-growing and need minimal water.

Schedule irrigation at night: The best hours to water are the wee hours of the morning, between 2 and 6 a.m. That's when winds are low and your water will evaporate the least.  
Give your trees a long drink: Trees that are watered by an irrigation system often also benefit from one good, deep watering before the summer heat hits, especially during droughts like this one. Use your garden hose for this supplemental watering. Turn it on to drip at a very low level for an hour or two. Do this once before summer and it will help your tree withstand the heat!