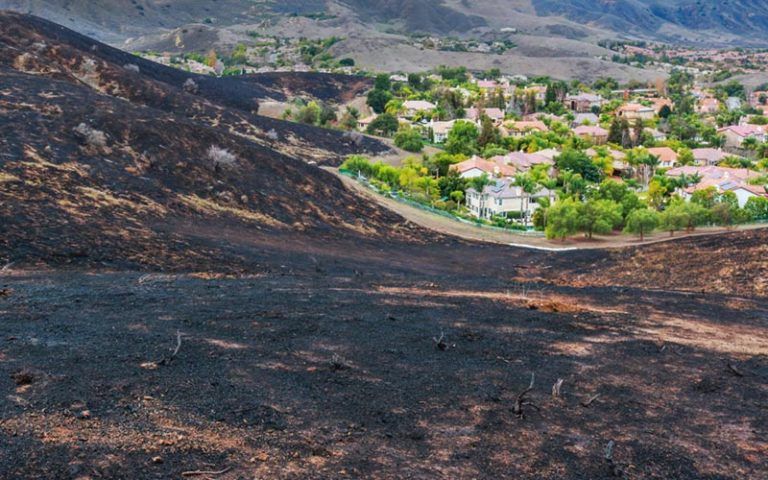 Did you know that the Getty Center Museum in Brentwood, CA hires a herd of goats each spring to eat brush in an effort to reduce fire danger? While the mental image may be humorous, clearing brush is no joke.
In response to recent wildfires, new brush clearance requirements have been established for property owners. You must ensure your property is within compliance of these regulations and those already established by April 30, 2019 to pass inspections and avoid fines.
Here are a few brush clearance requirements you should be aware of.
How and When Brush Clearance Should Be Done Guidelines for the tools you use and days you choose are now laid out in the brush clearance requirements to ensure that fires are not started in the process of trimming and clearing and to protect those involved.
Metal cutting blades for grass and brush clearance must be non-ferrous/non-sparking.
Brush clearance is not permissible on red flag days, when dry weather conditions are extreme.
A cell phone must be readily accessible to the operation in case of injury or emergency.
An approved fire extinguisher or pressurized garden hose with attached nozzle must be within 10 feet of operation.
Where and How Much Should Be Cleared
The specific ordinances provide valuable guidelines for how and where brush and vegetation should be cleared or trimmed. By adhering to these requirements, property owners can mitigate potential damage in the case of a fire.
Flammable vegetation within 30 feet of a structure must be mowed or cut down to 3 inches tall.
Trees and shrubs must be trimmed from the ground up to 1/3 their height, depending on fuel levels.
All roof surfaces must be maintained, free from accumulation of combustible matter.
Notice of Violation and Re-Inspection
The Brush Task Force ensures that regulations are followed and that properties are free of brush by conducting inspections during the month of May. It is pertinent that your property is ready for inspection by April 30. Here is what happens if your property is found to be in violation of brush clearance ordinances.
The property owner will be issued a notice of violation and charged a fee of $28.
15 days will be given until re-inspection.
Should the property fail the second inspection, the owner will be charged the cost of clearance, a $432 inspection fee and a $1304 administrative fee.
Protect Your Property from Fees and Fires
A comprehensive list of brush clearance requirements can be found at staygreen.com. Stay Green is ready to help you comply with fire regulations, pass your inspection come May, and avoid wildfires come August and September.
Call Stay Green at (800) 741-9150 to schedule an inspection of your property. Our landscape professionals will get the job done right!