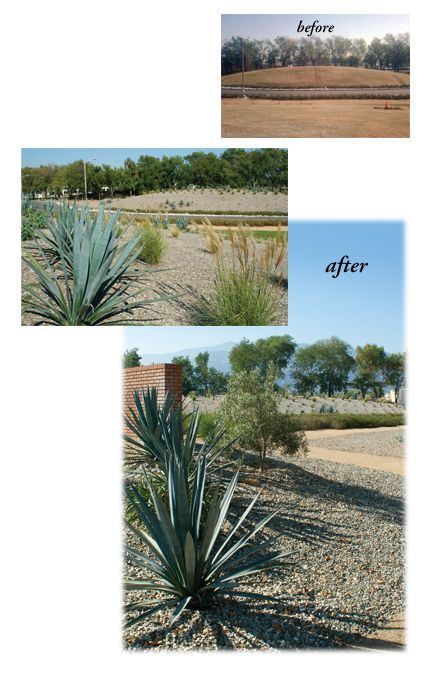 Hoping to achieve a more sustainable and cost-effective landscape for its brewing facility in Irwindale, MillerCoors brought in the experts from Stay Green Inc. for a landscaping makeover. The Stay Green Design/Build Services team embarked upon a turf replacement and replanting project that created a beautiful new look that will enable MillerCoors to reduce irrigation needs to virtually zero – providing MillerCoors with an outstanding return on its landscaping investment.

Old Turf = Fertilizer
Old turf was not removed from the site, but instead served as a fertilizer, producing nitrogen for the new plantings and reducing green waste.

Careful Plant Selection
Stay Green's experts accented the new design with carefully chosen plants that are native to the area and will thrive with minimal irrigation, including Cotyledon and several varieties of Agave and Aloe.

Drought-Tolerant Turf Replacement
Water-sucking turf grass was replaced with less thirsty, easy-to-maintain grassy plants, such as Miscanthus and Muhlenbergia.

Establishing the New Landscape
The MillerCoors landscape will be irrigated regularly for two years at a reduced level. After that, the new landscape will be well-established to the extent that, depending on weather conditions, it will only need irrigation a few times per year — or the sprinklers may even be shut off completely.

The new MillerCoors landscaping is a sustainability home run, avoiding green waste and establishing a beautiful, colorful appearance while drastically reducing future costs for irrigation, fertilization and maintenance.

For a printable one-page summary of the MillerCoors project, click here.