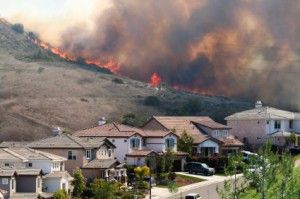 You might think Southern California's fire danger in the upcoming fire season would be higher than usual. After all, we had a very wet winter in 2011, followed by a relatively mild fire season last year, and then a very dry winter this year.

That should add up to a lot of dry fuel for fires, right?

Not necessarily, says Richard Minnich, a fire ecology expert from the University of California, Riverside.

"Some rain in the fall allowed the grasses to grow, but then the winter drought killed most of them before they could make seed," Minnich is quoted as saying in an article published online by UCR Today. "As a result, the hills show mostly bare ground today, greatly reducing the fire hazard, especially in the interior valleys from Riverside to Temecula."


Minnich, a professor in the UCR Earth Sciences Department, told UCR Today that the drought of this past winter will mean an earlier-than-usual onset of fire season this summer, so we'll see fires sooner than normal. (In fact, we've already had several early fires in the area.) But, he said, those fires primarily will be in the areas that depleted soil water more quickly — in other words, the areas with more dense vegetation that has not burned in a long time.Farther north, the article says, areas that have burned in recent years also have low fire danger this season. Among them: the portions of the Angeles National Forest near Santa Clarita that burned in the devastating 251-square-mile 2009 Station Fire, which destroyed more than 200 structures, including 89 homes.

The article identifies several specific areas that have not burned in 60 to 100 years, including mountain territory near Monrovia, Wrightwood and Crestline. Those areas, Minnich said, are especially vulnerable to wildfires because they have not undergone the normal fire cycle, which is about 30 to 60 years.

At Stay Green, we place a great deal of importance on the safety of our clients and their properties, so we always advocate proper brush clearance, irrigation and other measures that can be taken to minimize fire risk. While it's interesting and reassuring to hear about the prospects of a mild fire season — and we certainly hope that's the case — obviously all Southern Californians need to avoid complacency and make sure their properties are as fire-safe as possible.

After all, even in a "mild" fire season, there's no denying we're all still living in wildfire country and we have to do whatever we can to minimize our risks.