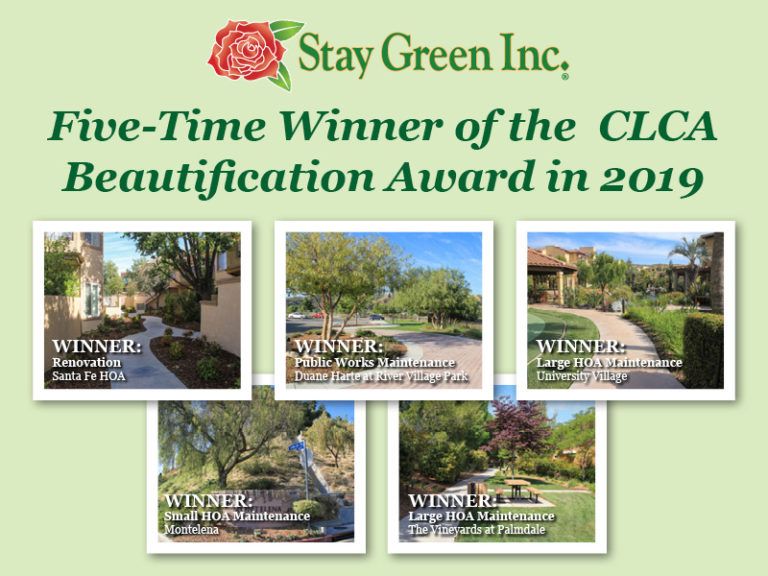 Beautification Award Winner– 2019 
Stay Green Inc., a Southern California-based landscape industry leader, continues to receive recognition regionally and nationally for their superior work in commercial landscaping. Recently, the San Fernando Valley Chapter of the California Landscape Contractors Association (CLCA) presented Stay Green Inc. with five awards at their 60th Annual Beautification Award Ceremony.
"It's continuously an honor to be recognized as a top landscape company in the area," said Stay Green CEO Chris Angelo. "Our success is a team effort achieved by our family of employees. We have to thank our clients too who have trusted us to deliver efficient and beautiful landscaping."
CLCA's awards are broken up into categories, highlighting the breath and width of reputable landscape companies. Stay Green received recognition in the following areas: renovation, public works maintenance, and large HOA maintenance.
Landscape Renovation
Within the category of "Landscape Renovation," Stay Green was recognized for their work on the Santa Fe Homeowner's Association. Nestled in Santa Clarita, a city that prides itself on its green spaces and landscaping, the Santa Fe condominium complex seeks to replicate the surrounding greenery. Stay Green was able to renovate the landscaping for better water efficiency and healthier plant life.
Public Works Maintenance
Duane Harte at River Village Park is one of more than 30 parks in Santa Clarita's coveted park system. Lush trees, a multi-purpose field and efficient irrigation were among the items dependent on the maintenance Stay Green did, which CLCA recognized with a first-place award.
Large HOA Maintenance
In the category of large HOA maintenance, Stay Green was recognized for their work on The Vineyards at Palmdale Homeowners Association and University Village Thousand Oaks. At University Village, Stay Green manages 65 acres and upholds the community's sense of luxury. At The Vineyards, Stay Green's work makes this community an even more desirable area.
"I am proud of our team and the reach we have throughout Southern California. We intend to continue delivering superior landscape services and expanding our family of employees and customers," said Angelo.