The following is a copy of a Stay Green press release issued today: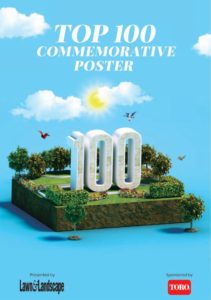 SANTA CLARITA, CA – Stay Green Inc., a Southern California-based landscape industry leader, is continuing its string of listings among Lawn and Landscape Magazine's Top 100 landscaping companies in North America.
"This is a tremendous accomplishment for our team," said Stay Green CEO Chris Angelo. "We're a family-owned business, and our entire team is like an extended family, so when the company earns recognition like this it highlights the excellence of more than 300 team members throughout eight Southern California counties. We're proud of every one of them."
Lawn and Landscape has released the Top 100 list annually for more than two decades, and Stay Green has appeared on the list multiple times. With 2017 revenue of $24.3 million (representing a 12 percent increase from 2016), Stay Green is ranked No. 80 on this year's list, up nine spots from last year.
Stay Green is one of 12 California-based companies on the list – the most of any state, for the ninth consecutive year. All told, the 100 companies on the list generated $9.6 billion in revenue in 2017, an increase of 5 percent from the prior year. The list, which ranks companies based on revenue from landscape profit centers, includes companies from 27 states as well as four from Canada.
"The success Stay Green has achieved as one of the continent's top 100 landscape companies is a reflection of the dedication, skills, service and commitment to our core values that are shared by the entire team," Angelo said. "The landscape industry is more competitive and technology-driven than ever, so it takes a continuing commitment to move forward, to learn and to lead, to remain among the industry's best."
In the written introduction to the Top 100 report in the magazine's
May issue, Greg Janey, general manager of residential and landscape contractor businesses for list sponsor Toro, said the companies included on this year's list are an inspiration for everyone in the industry.
"Success truly is contagious when you surround yourself with positive examples, and you'll find them in this report," Janey said. "As landscape industry professionals, we share a common goal – not only to create beautiful landscapes but also to care for the land and its resources. Whether it's a plant or a business, the work and care you put in is reflected in how it grows."