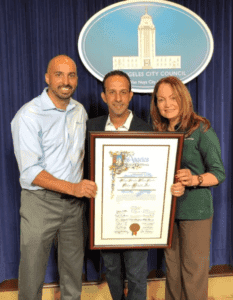 Stay Green Inc. was honored at Van Nuys City Hall on Dec. 1 for the company's efforts in supporting the Clean Streets, Clean Starts partnership among the Northridge Sparkle Campaign, San Fernando Valley Rescue Mission and Los Angeles City Council District 12. The honor was presented by 12th District Councilmember Mitchell Englander.
The Clean Streets, Clean Starts program works to recruit homeless volunteers to assist the community with maintenance on Reseda Boulevard. These volunteers then receive gift cards to help them pay for food and other essential goods. The goal of this project is to instill skills and work ethic into the volunteers so they can seek full-time employment in the future.
Stay Green is committed to practicing environmentally friendly techniques in its landscaping throughout Southern California. Stay Green is widely recognized as a landscape industry leader in environmental stewardship and sustainability.
Ralphs Grocery Store and Goodwill Industries were recognized along with Stay Green for their support. You can watch a recap of the acceptance here.