We were honored earlier this month when our company founder, my father Rich Angelo, was invited as one of two keynote speakers to lead a roundtable discussion at a meeting of the Orange County Chapter of the California Landscape Contractors Association. The topic was how to grow your business.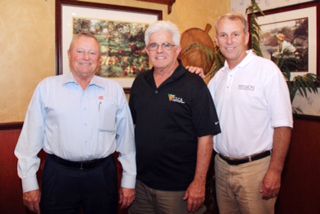 From left: Stay Green founder Rich Angelo, CLCA Orange County Director Richard Cohen and David DuBois, CEO of Mission Landscape Companies.
Rich Angelo was joined by fellow keynote speaker David DuBois, CEO of Mission Landscape Companies, and the discussion was facilitated by Richard Cohen, Director of the Orange County Chapter of the CLCA. More than 30 Orange County CLCA members attended the discussion.
The two successful landscape professionals fielded questions on the top factors that led to the growth of their companies, as well as the roadblocks they encountered along the way. They also discussed marketing strategies, recruiting and retention, client relations and other advice for small companies that seek to grow.
While the discussion was primarily couched in the terms of the landscape industry, we believe our founder's advice — particularly as it applies to the values of service, respect and trust — can be applied to any type of business. So, we've posted a summary of his answers online, along with a few photos of the event:
'Growing Your Business with Rich Angelo' on StayGreen.com
We're sure you'll agree there are valuable takeaways — for any business seeking to grow.
Chris Angelo
Stay Green President-CEO