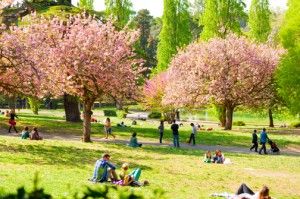 Dog may be man's best friend — but man's most necessary friend is the tree.

Trees are much more than decorations for our properties and public spaces, although they serve that function quite well. They also make for quite delightful, and natural, shade structures, particularly now in the dog days of summer.
But perhaps most importantly, trees are an integral part of our ecosystem, as they fight global warming by absorbing carbon dioxide and in turn adding oxygen to the air we breathe.

We've gotta have oxygen, of course.

So, with that in mind, the Tree Care Industry Association has implemented sweeping new national standards for conservation and planting of trees and shrubs. The TCIA , which serves as the secretariat for the American National Standards Institute, maintains the standards in order to ensure optimum health for trees and shrubs across the natio
n. It's only natural that these standards would continue to evolve, considering today's rapidly advancing technology, increasing emphasis on sustainable activities, and our ever-growing body of knowledge about plant health and how our activities can affect plants.

The new standards cover a wide variety of activities for construction and development activities as well as planting and transplanting of trees and shrubs. Among them:

• Project planning
• Construction
• Pre- and post-construction phases
• Demolition
• Use of barriers
• Excavation and trenching
• Utilities
• Pavement
• Timing of transplanting
• Transplanting methods
• Moving and storage of plants

There are more — a total of more than 30 subject areas — and of course knowing and understanding the details of each of these standards is the responsibility of our professional team at Stay Green. We're proud to say our team constantly stays abreast of changing standards to ensure that our operations meet or exceed them. Whether we are managing your existing landscape or designing and building a new one, we always strive to do so in a sustainable way, and to uphold standards like those created by the TCIA to ensure that our nation's trees are healthy.

After all, our friends the trees deserve nothing but the best.