Stay Green Inc.'s executive management team, led by President-CEO
Chris Angelo, summited Yosemite's Half Dome on September 13, 2011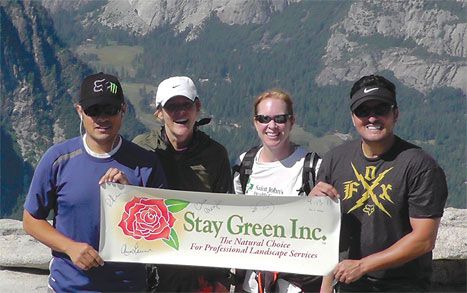 SANTA CLARITA, California
Stay Green Inc.'s President-CEO Chris Angelo led his executive management team – Rene Rivera, Vice President of Operations;
Anne Leirer,
VP of Business Development;
and Stephanie Vasquez, Controller to the summit of Yosemite's Half Dome on September 13, 2011.
"The connections we develop as a team are very important to Stay Green's success," Angelo said.
"A journey like this, which challenged us in every imaginable way—physically, emotionally, and psychologically—helped us draw closer and forge even deeper bonds."
Before dawn, the group began its ascent of Half Dome, Yosemite National Park's most prominent landmark, rising 1,444 meters above the valley floor. En route to the top, the team journeyed along Mist trail and through a pine forest, enjoying the park's beautiful waterfalls along the way. The group encountered the "cables," a 274-meter vertical ascent to the summit at the final leg of the trip. Once at the top of the granite dome, Angelo, Rivera, Leirer, and Vasquez posed for photos with a Stay Green banner to celebrate their hard-earned achievement.
"The entire ascent was something we will all remember for the rest of our lives," Angelo noted. "We pushed ourselves as individuals to make it to the top. And, on the way, we challenged and helped each other. The climb was symbolic of how we work together at Stay Green. We strive to be the best for our clients and our team, and we help each other achieve our goals."
Angelo's father, Richard "Rich" Angelo, who founded Stay Green more than 40 years ago, accompanied the climbers to the trailhead as they began their trek.
"It was wonderful to be with Chris and our team as they set off to reach the top of Half Dome," Rich said. "Knowing that they worked so hard together and were able to reach their goal—it made me very proud."
About Stay Green Inc.
Serving all areas of Southern California from its headquarters in Santa Clarita, Stay Green Inc. has established a reputation for unsurpassed excellence in landscaping quality and service spanning four decades. Stay Green is recognized as an industry leader providing environmentally friendly landscape maintenance, tree care and plant health care services that enhance the natural beauty and investment value of client properties. The company has achieved a 95 percent customer retention rate along with numerous industry awards such as the CLCA's. Founded in 1970 by Richard and Charlene Angelo, Stay Green remains family-operated and now employs more than 200 people in three divisions throughout the region.
Visit www.staygreen.com for more information.